Balboa Park Museums Features A  World of Wonders

Balboa Park Museums are the one destination that is sure to be a favorite with your family, it includes the Air and Space museum and the Natural History museum. These unique attractions has something special to offer each and every member of your family no matter what their age or interests may be.
Whether you are planning an extended vacation or a short holiday weekend this San Diego park will provide you with a treasure trove of activities to enjoy.
When I was looking for a very special attraction to highlight our family vacation to San Diego, California, it was an easy choice to select Balboa Park museums for our day trip adventures.
This is one of the Bay City landmark attractions that is as popular with local residents as it is with vacationing guests.
You will never be at a loss for adventures to discover because this park is overflowing with artwork, gardens, dining, stores, entertainment, and of course you still have the many different Balboa Park Museums that are waiting to be explored.
Balboa Park's Air and Space Museum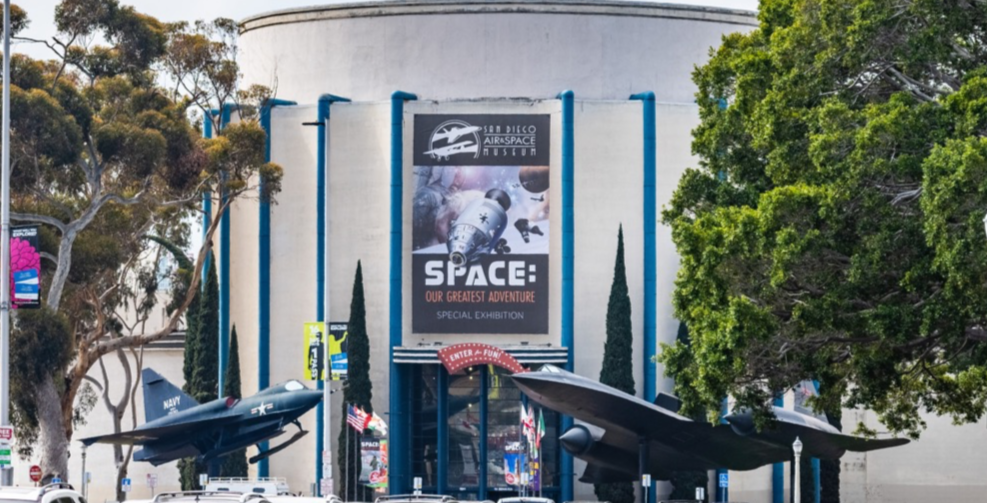 Be sure and check out The Science of Aliens exhibit at the San Diego Air and Space Museum. This is one of the most popular of all the Balboa Park Museums.
There are always some wonderful exhibits on display that will delight your entire family. You will never have a bored moment when you visit this San Diego landmark. The 3D family films are also a must see activity when you visit this aeronautical museum.
Museum of Man at Balboa Park
The Museum of Man in San Diego has an array of exhibits that are dedicated to showing the history and evolution of humans. Our family had the opportunity to see the displays and exhibits entitled Strange Bones which is all about curious, unique or unusual conditions and developments that can affect the human skeleton.
Museum of Natural History
At one of the Balboa Park museums you can visit the Natural History Museum and wander through both temporary and permanent displays.
The herpetology collection alone contains almost 50,000 rattlesnake specimens that look as though they are ready to unleash their venom at any time. Don't worry. These snakes do not bite, or move, for that matter.
Some of the favorites are Fossil Mysteries, All that Glitters, Ocean Oasis and Lizards and Snakes; Alive!
My kids were really eager to catch a viewing of 'Ocean Oasis' which is a film shown on the museum's huge theater screen. I have to admit this film was one of the highlights of our Balboa Park's museum tour and I would have readily stayed to see a second showing.
Automotive Museum
The San Diego Automotive Museum is dedicated to showing the evolving and development of the modern day car. This is honestly a very interesting museum to visit and even the teens and kids will enjoy the opportunity to see how the automobile has changed over the years.
San Diego Museum of Art
San Diego Art Institute: Museum of the Living Artist gives you a chance to really get up close and personal with some wonderful art treasures.
You can usually purchase hand made crafts at this Balboa Park museum, and when we were there a trunk sale was ongoing that featured unique jewelry made by leading artisans in the San Diego community.
Balboa Park Museums include a tribute to Model Railroads
The San Diego Model Railroad Museum operates the largest collection of model railroads in the US and Canada. In addition to the many model train layouts there are hands on exhibits for both adults and kids to enjoy.
Each year there is a special exhibit dedicated to LEGO trains as well and this is well worth visiting. The constructed pieces that are made solely from tiny LEGO blocks are absolutely unbelievable.
Mingei International Museum at Balboa Park
The Balboa Park's Mingei International Museum features a number of artworks from highly talented artists who hail from many countries.
The exhibits are internationally themed and when we were there the museum exhibits included such displays as Tequila Bottles from the El Agave collection and a traveling art show by textile artist Zandra Rhodes.
Balboa Park Sports Museum
At the San Diego Hall of Champions Sports Museum is where you will find Balboa Park Museums premiere sporting exhibits. As a sports fan this was the museum that I personally enjoyed the most. Photos, jerseys and other major sports memorabilia will trigger some wonderful memories and emotions in any sports fan.
Museum of Photographic Arts
Another of the Balboa Parks Museums that consistently remains popular with guests is the San Diego Museum of Photographic Arts. The number of photographic exhibits is truly astonishing.
The younger kids were not as inspired by the still photography as the teens and adults but this is a chance for everyone to view photos by famous photo-montage artists such as Taylor and Uelsmann.
I had a chance to view the exhibit titled "Taking Aim" which was a startlingly realistic images of musical giants such as the Beatles, Janis Joplin and Bob Dylan, but this collection has recently been replaced with a display of images entitled "New Realities".
Reuben H. Fleet Science
At the Reuben H. Fleet Science Center which is one of the all time favorite Balboa Park Museums, everyone had a chance to explore the adventures and wonders of science.
Typically there are more than 100 separate exhibits that encourage visitors to discover the world around them. Do not miss a chance to explore the interactive exhibit known as 'Kid's City".

Timken Museum of Art
You should not miss the opportunity to visit Balboa Park's Timken Museum of Art which is well known as one of the finest small art museums in existence. This is where you can see artwork by famous Old Masters and view the only 17th century Rembrandt painting currently on display in a public San Diego collection. 
Balboa Park Museums are where dazzling fantasy, science, and imagination came to life right in front of your eyes. Isn't it time you began living the adventures that you are dreaming about?


Return from Balboa Park Museums to Balboa Park San Diego
Return from Balboa Park Museums to San Diego Attractions Home Page