Experience Ocean Enchantment with San Diego Whale Watching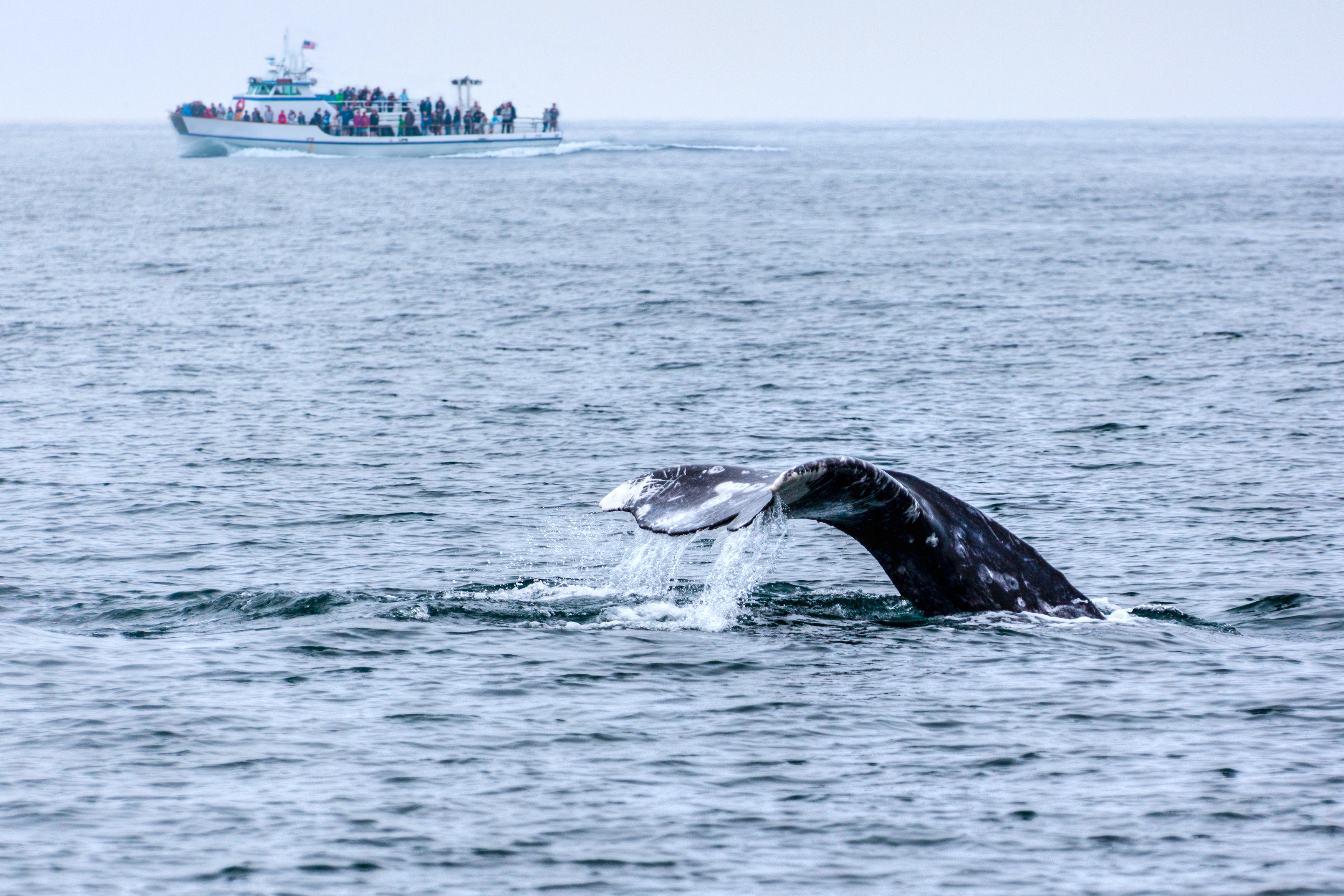 San Diego whale watching from a boat, is to experience the wildlife of the ocean first hand! A cruise is educational, fun and something of an adventure, especially for children. If you are on one, with a trained Naturalist or Captain narrating, this adds to the enjoyment and education of the trip.

It is worth a mention, that during the early nineteen hundreds, the Gray Whale population was nearing extinction. Thanks to education, environmental action and procedures, this whale population is now thriving.
This could be a once in a lifetime experience for you, so make sure that your camera or video camera is operational and do not forget the binoculars!
Whale Facts and Migration
If you're going on a San Diego Whale Watching expedition, the following information is worth considering. The California Gray Whale undertakes the longest migration of any Mammal! Every year, this amazing journey of about 10,000 miles, is undertaken by some 20,000 plus Grey Whales.
It begins in the Arctic seas and traverses south to Baja and back! It is recorded by the Birch Aquarium in San Diego that Gray Whales, or Eschrichtius robustus, are most frequently seen from late in December through to March.
Whale watching in San Diego is a memorable experience, to see whales propel their full impressive lengths out of the water, known as "breaching", then the powerful force with which they crash back into the sea.
Anyone watching this feat can only be awe struck, by the grace and agility of these gentle giants of the oceans. As many as two hundred Whales have been counted off the San Diego coast. There are several companies that offer tours and excursions for close up viewing of the Whales.
The Cabrillo National Monument on Point Loma also offers a viewing area, as does the Birch Aquarium in La Jolla. The Whales generally either travel alone or together in pods of two or three and cruising at an average speed of five knots, or about six miles per hour.
As they swim, a typical pattern for them is to dive to a depth of approximately one hundred feet, for between three to five minutes, then come to the surface and "blow". This is followed by three to five shallow dives and "blows", after which they deep dive again!
Now here is a fun exercise for you! The key to a successful San Diego Whale Watching is to figure out the breathing and diving rhythms, of a particular whale you are observing, or a pod of whales.
San Diego Whale Watching Tours
The Flagship San Diego Whale Watching tours are not the only place where you can get a front row seat to view the mighty whales of the Pacific, but this is one of the very best expeditions in my opinion.
The cruises out into the Harbor are interesting and exhilarating, but nothing can top the actual excitement of seeing one of these magnificent mammals breaking the surface of the ocean.
You can keep a look-out posted for the large California Gray whales but there are so many other interesting sights to occupy your time. Migrating flocks of birds often stream across the sky, and then there are dolphins, sea lions and seals at play in these waters as well.
Our family had the chance to live the 'whale watching' experience and even the younger kids were enthralled by the sight of the frolicking seals , playful pelicans and graceful sea gulls.
Birch Aquarium
Birch Aquarium is a great place to start your San Diego whale watching adventure. I recently went on one of these tours with my family and we already are planning to return in the spring for another excursion.
San Diego whale watching are conducted in the Harbor waters of the Bay area. These outings that are led by Birch Aquarium staff generally occur twice each day during both spring and winter months.
Our tour guide works as a naturalist at the Scripps' Birch Aquarium and she knew how to keep the interest of the audience while feeding us informative facts about the many different sea creatures that live and travel along the San Diego coastline.
We were encouraged to ask questions and even our teens seemed to forget that they were involved in a 'learning experience' and really got caught up in the mood of the moment.
One of the really nice benefits of these San Diego whale watching tours is the fact that they guarantee you will see a whale.
If you are out on one of their tour boats and for some reason a whale is not sighted you can get a free 'whale check' which entitles your party to another outing at no additional charge.
We saw a whale shortly after we cruised out to our destination, and by the time the tour was over we had been lucky enough to see a grand total of 3 gray whales in all.
San Diego Whale Watching Tips
Most boats have indoor and outdoor seating available, but it must be borne in mind, that whale watching is an ocean voyage! If you wish to be exposed to the elements, then dress accordingly, with layers of clothing.
You will want to make sure that you dress for the weather and believe me when I tell you that the winds and ocean breezes can be uncomfortably chilly even when the sun is shining brightly overhead. Always take sweaters or jackets with you if you are planning on signing up for one of the San Diego whale watching tours.
There was seating available both on deck and in the interior cabin area. For our group it was 'on deck' as much as possible. You can always remove items as you become warm. Anticipate that it could be at least ten degrees cooler on the water.
The panoramic Harbor views with the backdrop of the San Diego skyline are spectacular to behold, and even the salty ocean spray and chilly winds added extra appeal the unique adventure we were experiencing.
You can expect your San Diego whale watching experience to take up several hours. In fact our ride lasted for about 4 hours from start to finish.
Snacks and beverages can be purchased onboard, there are restrooms available and you will be given information and picture sheets about the whales. For the cost of the tickets these excursions are one of the best San Diego tour packages available.
There is so much to see and capture for memories; try not to miss any of these unforgettable incidents while San Diego whale watching. 
Return From San Diego Whale Watching to San Diego Attractions Home Page