Legoland California and Sea Life Aquarium - Get Ready To Be Amazed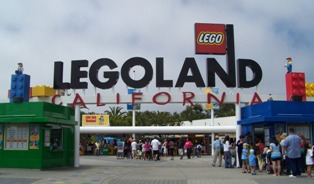 A visit to Carlsbad won't be complete without going to Legoland California. Located just under an hour's drive north of downtown San Diego via the I-5.

Carlsbad hosts several large-scale and some smaller venue sights and activities. Topping the list is Legoland, following closely by is the Sea Life Aquarium. Both venues are linked together and thus, offer better admission pricing.
Legoland California Attractions
Almost everyone has grown up on LEGO building blocks and Legoland offers both adults and kids a chance to continue having fun. There are some 50 rides, shows and attractions all replete with LEGO structures.
There is even a LEGO pharaoh guarding an Egyptian temple and a place where visitors can see LEGO architects building new exhibits.
One attraction in Legoland California allows kids to create their own LEGO structures from amongst tens of thousands of LEGO blocks.
Getting wet seems to be a major part of the fun menu, so come prepared. There are rides and water activities galore, including a "Soak and Sail" pirate ship filled with water-laden gadgets and some surprise "pranks." An actual water park is open for the public since the summer of 2010.
Dino Island
Dino Island is exciting for the smaller kids and parents, you will have nearly as much fun as your children. Ride the junior sized roller coaster or get a bird's eye view of the gigantic "Megga Egga Saurus". There are dinosaur footprints to explore and of course no trip to Dino Island would be complete without a fossil dig.
Pirate Island
Pirate Island attraction at Legoland California will also bring its own particular type of fun and adventures. This is one of Legoland's most popular attractions and appeals to boys, girls and adults.
There are water based thrills and chills at Pirate Shores to keep you busy throughout the day and if you choose your Legoland discount tickets carefully you will be able to enjoy more than one day at this family themed park.
Fun Town, Land of Adventure, and the Imagination Zone
Fun Town, Land of Adventure, and the Imagination Zone are some of the other special areas that we enjoyed a great deal. At Fun Town the Legoland attractions are all created to be the perfect size for kids and this gives them the opportunity to pretend that they have suddenly become 'big kids'.
Sea Life Aquarium
Consider piggy-backing a visit to the Sea Life Aquarium since it continues the water theme but focuses on the nature component. There are numerous hands-on exhibits, touch pools, exhibits and feeding shows to wow kids and adults alike.
Much of the emphasis is on the California coast, including the San Francisco Bay and coastal tide pools. But, there is now also a hammerhead shark exhibit, including a shark pup feeding. For environmental emphasis, look for various exhibits created from student-collected beach trash.
Legoland Prices
Admission is pricey starting at $89 per person for ages 3 and above, however consider buying a "Hopper" ticket (see prices below). You'll save some money buying it online. Be aware that parking is in addition to the admission cost which is $30 per vehicle.
Legoland Resort Hopper
Legoland, Water Park, and SEA LIFE
2-Day Hopper Price: Adults (Ages 3+) $159
Make sure the 2nd visit occurs within three days of the first visit.
Sea Life Aquarium Hopper
Legoland Ca. & SEA LIFE

2-Day Hopper Price: (Ages 3+) $129
2nd visit must occur within three days of the first visit.
Discount Legoland Tickets
During my recent trip I discovered that using Legoland San Diego Discount Tickets and resort hoppers brought relief to my tight budget. With it, the younger kids were happy to spend the entire day traipsing between the different parks and never once were there any complaints of boredom.
What can really cost you some unexpected expenses are the on-site restaurants. We chose to pack a picnic lunch and bring bottled water with us instead.
Legoland Schedules
For both sites, double-check their online schedules (see links below) before committing to a vacation or other trip. This is because the parks may be closed due to routine scheduling or for exhibit maintenance and repair. 
Legoland California Operating Days and Schedules Calendar


Return from Legoland California to San Diego Attractions Home Page