Tourist Attractions in San Diego
Tourist Attractions in San Diego boasts many wonderful sights and activities. With its beautiful beaches, magnificent sunsets, and countless attractions, San Diego is a city that has something for everyone. 

If you're in the Downtown area, not far away you'll find the world famous San Diego Zoo, and Balboa Park which houses its numerous unique museums that includes one of my kid's favorite, the Fleet Science Center.
Coronado Island
Coronado Island is an island across the Coronado Bridge, it offers the Hotel del Coronado with its impressive splendor and historical perspective. Walks along the beach, through the business district and along neighborhood sidewalks yield eclectic views of a world unto itself.
There are some great restaurants along Orange Avenue and in other parts of the island. Don't be fooled by how they look from the outside, though. Some are literally storefronts along the street.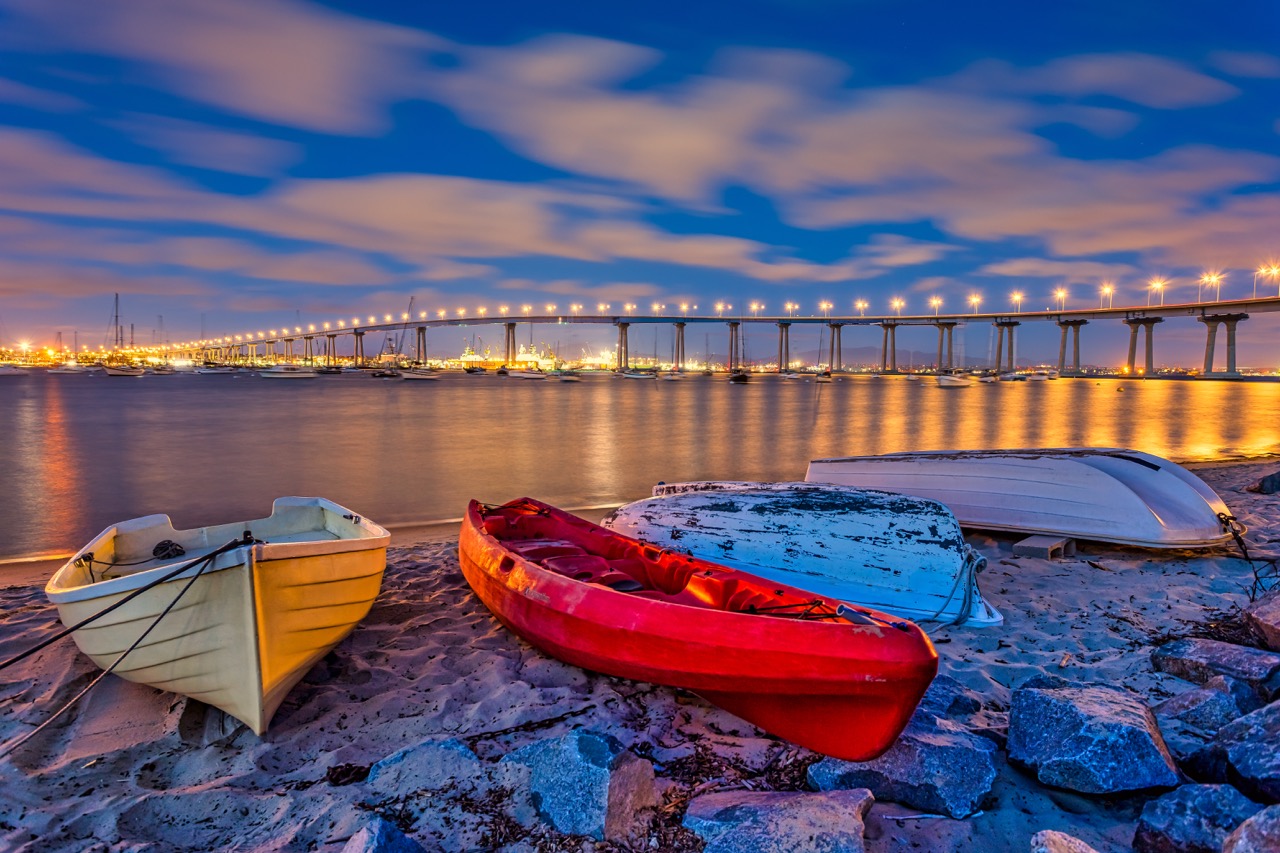 Downtown San Diego
Eateries top the agenda, especially in Downtown San Diego. The Gaslamp Historical District houses most ethnic fares as well as fast food eateries (at the Westfield Horton Plaza).
But for breakfast, nothing tops Richard Walker's Pancake House or Café 222 (both located near the Convention Center). People line up and wait, even in the rain, to get a seat. Think about sharing. The offerings are huge!
Another thing that is huge in the area is the presence of the U.S. Navy. Depending upon fleet operations, you'll get to see everything from destroyers to aircraft carriers. The Hospital Ship USNS Mercy sometimes docks here. The U.S. Navy is one of the many reason why San Diego tourism gets a slight boost.
You can see a lot of the harbor action from Seaport Village, an enclave of shops, restaurants and park area located just west of the Convention Center. Sailboating is a major pastime in the area. I believe that's the best part of the whole tourism in San Diego.
Tourist Attractions in San Diego You Should Definitely Check Out!
Cabrillo National Monument to the west of San Diego, this park yields much about the history of the area, but also overlooks San Diego Harbor, the San Diego Naval facilities, San Diego International Airport and more. The views are breathtaking.
A short drive north from downtown yields SeaWorld, while a trip slightly further north takes you to La Jolla. Also, the city of Del Mar which is right next to La Jolla boasts some of the best Hot Air Balloon rides, you should try it at least once and check out San Diego tourist attractions in a whole different view.

Scripps Birch Aquarium
La Jolla boasts the Scripps Birch Aquarium with some spectacular exhibits and hands-on-activities. If you want to touch some anemones or other critters, there is touching pool. You can also drive down to the beach area to see tide pools up close and personal.
Carlsbad


Drive north on I-5 for about 45 minutes and you'll reach Carlsbad, home to Legoland and other attractions. Further east from Carlsbad (even east of Escondido and I-15) is the San Diego Zoo Safari Park formerly known as the Wild Animal Park. It's out of the way, but more than worth the price of admission and parking. You will literally be within a stone's throw of many wild animals.
Head north on I-15 for about another half hour and you'll get into southern California wine country. Temecula offers numerous wine tasting opportunities.
As you can see, it's easy to fill up a week with activities and relaxation in the city and its surrounding area. In fact, it's easy to fill up two weeks or more. So, enjoy your San Diego adventures and come back for a return engagement. San Diego tourism is not anything like most other tourist "traps."
Return From Tourist Attractions in San Diego to San Diego Attractions Home Page