Shop and Dine At The Coronado Ferry Landing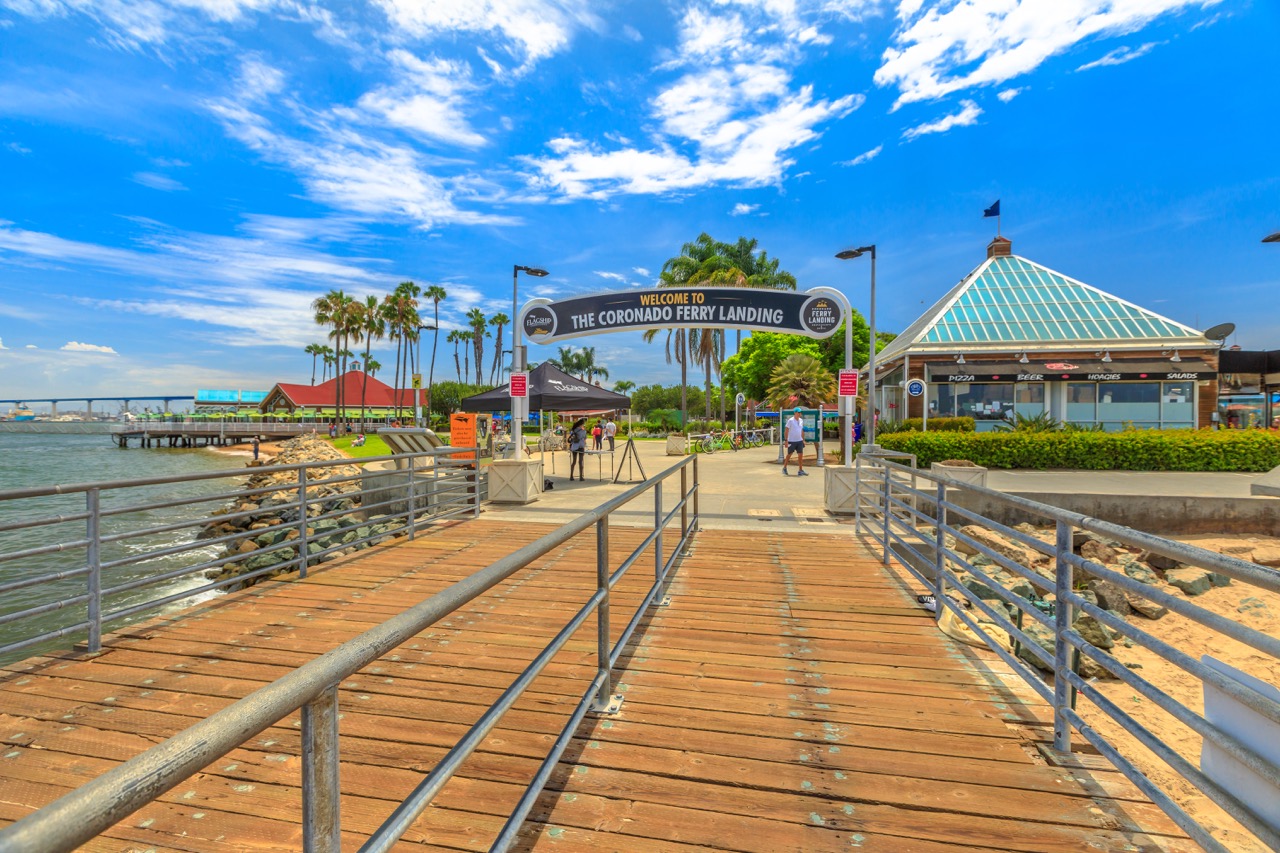 One of the surprising little treasures in the San Diego Bay area is the Coronado Ferry Landing and its uniquely different shopping village.
Our family had the chance to stop by and enjoy this wonderland on our latest visit to Coronado Island, and it became one of the highpoints of our day.
Coronado Ferry Landing Marketplace
We reached Ferry Landing by taking a ride on the hourly excursion boat that maintains a constant schedule from early morning until night.
While the boat ride is an adventure in itself I watched other visitors dock their personal watercraft right at the marina, and I do admit to more than just a little envy.
The ferry service operates hourly from 9 in the morning until 9 at night. This means you can easily enjoy a full day of shopping and sightseeing entertainment.
We used the Broadway Pier landing to access the ferry but you can also board the Coronado bound ferry at the 5th Avenue Landing.
The Harbor Excursions are a great opportunity to enjoy some panoramic views of the San Diego area, and once you arrive at the SD Coronado Ferry Landing you will be treated to even more amazing views of the city's storied skyline.
Regardless of how you get to this wonderful little oasis you will definitely have the time of your life.

Things To Do in Ferry Landing
Located along the bay in the Coronado neighborhood this shopping mecca has something for everyone to enjoy. There are almost two dozen stores, and each of these establishments offers unique and intriguing items for your consideration.
From upscale elegance to eclectic chic we took great delight in wandering about the shops and discovering the hidden gems that were tucked away among some of the shelves.
There is no need to worry about finding a place to eat because there are many restaurants and cafes located at the marketplace.
Whether you just want to grab a quick burger, a crunchy taco, or if you are in the mood for a more upscale dining experience there is a restaurant that offers exactly what you want.

Marketplace Shopping
Shopping hours are usually from 10 am until 7pm, but during the summer season the stores remain open for business until 9 pm. With art galleries, souvenir shops, clothing stores and a variety of other retail establishments available you will never run short of ideas and entertainment options.
Most of the restaurants and cafes will be open a little earlier than the other shops, and the eateries also close later. For me and my family that gave us plenty of time to really spend time experiencing the adventures at the Coronado Ferry Landing.
I would have been content to just stroll about the waterfront and take in the sights and sounds of this bustling little world, but it is almost impossible not to be a more active participant in life at the Coronado Ferry Landing.
Even if you are not a shopper, the aromas of fresh bread, sugary confections and other delicious food offerings will be more than enough to tantalize your taste buds.

Food and Entertainment
Village Pizzeria Bayside is another fun stop that your family will enjoy. Great food and a relaxing, casual atmosphere made this our favorite lunchtime stop.
We were able to get a table that gave us a wonderful view of the harbor and the pepperoni and sausage pizza was one of the best I have ever tasted.
Adults can enjoy happy hour at Candelas on the Bay, and on the weekends this restaurant features live, musical entertainment. This is my favorite day trip in the San Diego area, and one I would highly recommend to others.
There are so many unusual and interesting galleries, shops and cafes to be sampled at San Diego's Coronado Ferry Landing that it makes it difficult to know exactly where you should start your tour.
Coronado Farmer's Market
I would recommend that you check out the Farmers Market that is located at the Landing. There are some great buys on an outstanding variety of freshly picked produce that is all grown locally.
If you have never enjoyed purple or orange cauliflower now is your chance to visit Coronado Farmer's Market and take some home.
There are usually a number of special events that are being sponsored at the Coronado Ferry Landing so be sure to check out the entertainment and activities that are being offered.
This is one trip that you and everyone in your family will want to repeat.
San Diego's amazing Coronado Ferry Landing is located at 1201 First Street and B Avenue Coronado, California
(619)435-8895


Return from Coronado Ferry Landing To San Diego Attractions Home Page