Experience Sea World's Orca Encounter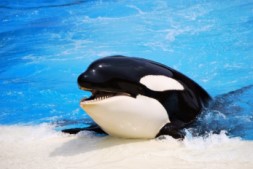 The Sea World Orca Encounter featuring none other than the world's most famous whale "Shamu", is an attraction you definitely won't want to miss the next time you visit the San Diego theme park. The fun and exciting encounter with Shamu will be the highlight of your trip to SeaWorld San Diego as the whole family will watch in awe as the park's mascot entertains guests from the show's start to finish.


Seating for Sea World Orca Encounter
The Sea World Orca Encounter needs to be reserved and paid for in advance, because it's not included with the price of admission to Sea World whether you've paid for a one day pass, a season pass, or even a combination ticket that includes admission to another park or zoo. Currently, limited seats are available.
Arriving early will give you the best chances of getting a seat toward the center section, unless, of course, you prefer sitting higher up in the stadium, which by the way, has no roof so you will want to bring plenty of sunscreen. The "soak zone" area of the stadium is naturally closest to the large pool where all of the sea animals will be performing.
One thing is for certain; wherever you do end up sitting at the show you will have a great view of the enormous whale as he does tricks all throughout the pool in many different directions. Special under water cameras provide even more stunning views of the whale swimming and diving under water. Plus, there are four giant, individual screens that move around and actually come together as one incredibly large monitor for the entire audience to see Shamu up close and personal.
And if you do arrive early, don't worry about getting bored while waiting for the show to start as there is a pre-show starting about 20 minutes before Shamu and friends make their exciting debut. While you're waiting you also won't have to worry about having to leave for drinks or food as there are plenty of vendors milling about the stadium selling treats, souvenirs, and even rain ponchos for those waiting to get soaked by the splashing whale and his antics.
During the Sea World Orca Encounter, whales and both female and male trainers interact to put on a stunning performance all working and performing together as one. Seeing humans and killer whales working so closely with one another in tandem as if they're old friends is quite a spectacular site you won't want to miss.
Audience participation is also a big part of the performance and trainers working the Shamu show often choose a child from the stadium to meet the whale and "help" train or do tricks.
Trainers will also teach the audience how to give Shamu the "soak" sign and soon enough everyone will be frantically waving their arms at the great whale mimicking a tail fin. Then, clapping and laughing in delight when he responds by swimming quickly through the waters near the edges of the pool causing gallons of water to pour down over the elated crowd.
Fans are always mesmerized while being at the Sea World Orca Encounter, which seems to go by so quickly that you just may want to see it time and time again!




Return From Sea World Orca Encounter to Sea World San Diego

Return From Sea World Orca Encounter to San Diego Attractions Home Page