Seaworld Rides That Will Give Your Day Full of Fun Filled Thrills

You will notice a few seaworld rides as you stroll around the park. But the question is which one are you going to ride first? Picking which rides to go on really depends on what the majority of your group wants. Most people are thrill seekers especially teenagers, and they are the ones that wouldn't mind to get wet.
Journey To Atlantis is an excellent ride for those thrill minded people. Unfortunately it's the only roller coaster they have here in Sea World.
You also have to remember you're in a theme park of killer whales, dolphins, and other marine species. So you won't find a lot of roller coasters in this sea loving park.

Shipwreck Rapids
This is another wet seaworld ride; you and eight other passengers are placed in this raft that resembles an inner tube, then you embark on a five minute journey around a tropical island.
You will travel through caverns, dripping cargo nets, and a waterfall that will really get you soaked, if you haven't yet.
On top of that, you also have to avoid getting wet from people shooting water at you from canons that are stationed along the route of your ride.

Wild Arctic Ride
If getting wet is not your idea of fun, you could go trek along to the Wild Arctic ride.
It is similar to the Star Wars motion ride in Disneyland, but this time you're in a helicopter riding high above the mountains that takes you to a freezing and snowy adventure ride full of close calls.
At times, you would find yourself closing your eyes hoping you don't crash.
While this is happening, the pilot our hero is doing his best to maneuver around from all these dangerous obstacles, just to get you landed down safely to your destination.
I believe after that ride, you'll think twice about riding a helicopter way up in the mountains.
I know I will...

Sesame Street Bay of Play
Now, if you're not into fast wet rides or maybe have young ones with you, why don't you go venture out to Sesame Street Bay of Play.
It used to be called Shamu's Happy Harbor, until they have renovated and changed it to a Sesame Street themed kid's play area.
This place features three great kiddie rides that lets you ride along with your child if you choose to.
I myself have four little ones, it's here that we spent our first couple of hours before heading out to the shows.

Oscar's Rocking Eel
My kids asked me to go with them and ride Oscar's Rocking eel.
This ride rocks forwards and backwards, it gives you the feeling of someone tickling your stomach while the ride rocks downward. It also spins around while going forwards and backwards.
We had an awesome time riding this twisted eel looking ride.

Elmo's Flying Fish
After that, they dragged me to the next seaworld ride which is called Elmo's Flying Fish.
This ride has Elmo's face on all of the cars which is shaped like a fish.
It goes round and round a circular platform featuring Elmo on top and inside a transparent bubble.
The ride goes up and down, it also reminds me of a similar kiddie ride that does the same thing but in the shape of a helicopter or an airplane.
One of my kids told me with a huge smile on her face, that this is her favorite of all the seaworld rides and requested to go again.
How could I refuse, after all it was really for them =)
Finally, they went and rode on Abby's Sea Star Spin.
This is also similar to Disneyland's teacup ride that spins around. There's a disk in the middle of the car that you turn, the harder you turn it, the faster you spin.
I had to skip this one and let them do this on their own, because me and a spinning sea teacup don't really go too well together.
After spending time in the play area, we went to watch some shows, then decided to go on a relaxing ride.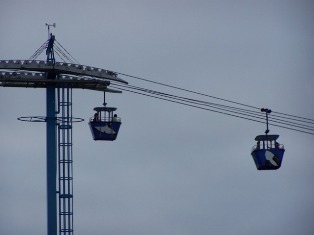 So we hopped on the Bayside Skyride and enjoyed the stunning view of the ocean from up there.

It cost us $5 for a round trip ride for each person, but if you decide to ride it one way, it will be $3 per person.



Another relaxing seaworld ride is the Skytower. It's the same price as the Bayside Skyride, but it is well worth the money.
The Skytower will take you high above Sea World and give you an incredible view of the San Diego skyline. I recommend to take that camera out and snap away.
Skytower is an excellent way to end your day at the park, especially watching the sunset overlooking the city of San Diego with that special someone next to you.
In a way, it almost seems...
Magical.




Return from Seaworld Rides to Sea World San Diego

Return from Seaworld Rides to San Diego Attractions Home Page