See the Wonderful Underwater World at Sea Life Aquarium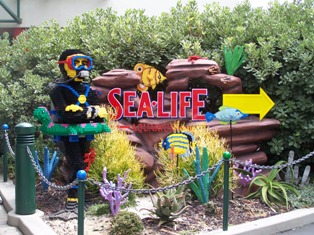 Carlsbad, California is home to Sea Life Aquarium which is a unique and highly imaginative place for kids and adults to enjoy together. This location is just a short drive from the San Diego area and the aquarium is next door to the highly popular Legoland California.
I know that it can be difficult to find attractions that provide both entertainment and education but this theme park has managed to create a fascinating setting where the unexpected is always 'just around the corner' waiting to be discovered. From tiny seahorses to giant sharks, turtles and a highly intelligent octopus this aquarium has a lot to offer.
Many of the nearby San Diego tourist attractions have more appeal to older children and adults but Sea Life Aquarium is making a name as an interactive center for children.
This is a setting where kids are encouraged to learn and explore the mysterious world beneath the ocean, and hands-on activities abound. My children were so enthralled that we had to think of a good bribe just to entice them to leave the park at the end of the day.


Legoland Discount Tickets and Sea Life Resort Hopper Tickets
As I observed how happy the kids were with their first visit to the aquarium I decided it was a good thing that we had already purchased the Resort Hopper tickets instead of a single day pass.

By scouting for Legoland discount tickets I had discovered that a multi-pass such as the Resort Hopper would give us unlimited visits to 3 parks for a price of $79 per child and $89 for adults.

We opted to include an extra day on all tickets which meant we now had a full 2 days to enjoy Legoland, the Water Park, and the Aquarium at our leisure.

There was no reason to try and hurry the kids through the exhibits and rides because we had plenty of time to experience everything these theme parks had to offer.

Not only was I saving money, I was keeping the stress levels under control. I heartily recommend that you check out multi-pass admissions whenever possible because this gives you more control over your vacation schedule.


Giant Pacific Octopus
One show that my kids insisted on seeing was the home of the Giant Pacific octopus. This animal is one of the most popular of all the exhibits housed in the Sea Life Aquarium.

We got to watch this 8 legged underwater creature eat, play and figure out the puzzle toys that the trainers would drop into the tank. Definitely a highlight moment during our tour of this park.


The Daily Dive
Be sure and check out the Daily Dive when you visit Sea Life Aquarium. These shows take place at 11am each day and last for about 20 minutes.

Everyone takes a seat in the Shipwreck Seating arena and then the audience is encouraged to assist Professor Proof and the underwater explorer as they try to discover the mysteries of Atlantis.

The kids get to talk to the diver in the tank via a unique diving mask and this was a big hit with everyone in the audience, especially my 5 year old.


Shark Talk Puppet Show and Discovery Touch Pool
At 12pm and 3pm there is a puppet show called Shark Talk that was fun to experience. This is best enjoyed by the younger kids and both my 3 and 5 year old children rated this puppet show a 7 out of 10 stars.

Some of the highlights for my family was visiting the Discovery Touch Pool where hands-on interaction between humans and marine animals is actively encouraged; and getting a chance to pet the Manta Rays in their large swim tank.


Feeding Shows
Sea Life Aquarium features special rock pool feeding shows on Sundays and Wednesdays. When these feedings were finished we got to take the kids over to the Southern Cal Tidal Pool and they were able to get a close up view of the anemones and sea stars.

The California Coast feedings take place at 10 am each Saturday and Monday. During these feedings you get to watch the lobsters, sharks and many other large fish being fed their breakfast treats. Both are interesting shows but my family definitely preferred the feeding where the sharks were the main focus.


Harbor Dive
Even though our kids are hardly 'room cleaning' experts they were enthralled to watch the early morning Harbor Dive at Sea Life Aquarium.

This is a short show that features a diver going into the Harbor Display tank and tidying up the underwater habitat where sharks, fish and some of the Manta Rays are swimming.

There are many other shows and displays for you to experience when you visit Sea Life Aquarium. If you check out the schedule of events ahead of time it will make it easier to plan your trip around the special shows that have the most appeal to your family.



Return from Sea Life Aquarium to Legoland California

Return from Sea Life Aquarium to San Diego Attractions Home Page